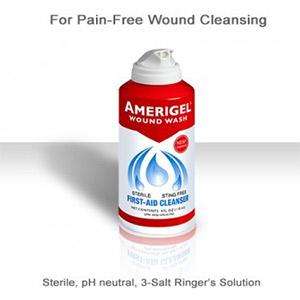 Advanced Amerigel Wound Wash- 4 oz.
Advanced Amerigel Wound Wash is a First-aid 3-Salt spray solution to cleanse wounds, cuts, scrapes, and minor burns painlessly. The Sterile, Drug-Free, Preservative-Free, pH-neutral solution promotes healing of cuts, scrapes, and minor burns without any discomfort from burning or stinging.
Convenient, effective, and easy to use system, just point and spray. The pressurized 360-degree dispensing system sprays at any angle for those hard to reach areas and helps to remove debris, dirt, and foreign material. No needles, syringes, saline bottles, or cotton swabs necessary. Cleanse your wounds painlessly with Amerigel Wound Wash.