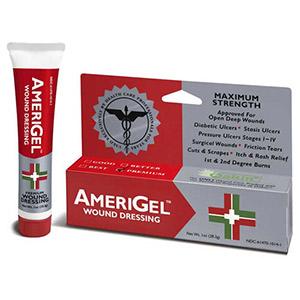 AmeriGel® Hydrogel Wound Dressing - 1 oz. tube
Amerigel® Wound Dressing has advanced 3-in-1 formulation fights infection, promotes a moist wound environment, and assists in the removal of debris eliminating the need for multiple wound dressings. Stronger than ointments found in stores, Amerigel kills over 51 common bacteria and fungus organisms without the side effects or allergic reactions associated with the use of antibiotics. Amerigel Wound Dressing with broad-spectrum infection control is proven to reduce healing time and minimize scarring.
Rated the #1 topical wound/ulcer treatment by podiatric physicians*, this natural, antibiotic-free, hydrogel with Oakin® is safe and effective for cuts, scrapes, abrasions, pressure ulcers, diabetic skin ulcers, stasis ulcers, 1st, and 2nd-degree burns and post-surgical incisions.
Rely on #1 rated AmeriGel® Wound Dressing for all your wound care needs.