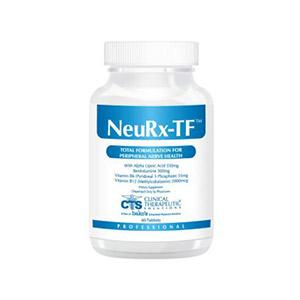 NeuRx-TF TABLETS® - 60 Tablets
NeuRx-TF TABLETS are ideal for nerve function support, as they combine powerful antioxidants that help protect nerve cells from oxidative damage related to aging and environmental stress.
NeuRx-TF TABLETS contain a total formulation of Alpha Lipoic Acid (350 mg), Benfotiamine (300 mg), Vitamin B6 (35mg) and Methyl B12 (2 mg).
As a dietary supplement, NeuRx-TF TABLETS may help maintain healthy blood sugar levels and are recommended for diabetic patients.*
WARNINGS: Not intended for persons under the age of 18. Do not use if pregnant or nursing. Consult a health care professional prior to consumption if you have any pre-existing medical conditions or are taking any prescription medication. Improper use of this product will not improve results and is potentially hazardous to a person's health.
KEEP OUT OF THE REACH OF CHILDREN.
NeuRx-TF TABLETS are distributed directly to physicians, dispensed at the point of care directly to patients, and offers a no-risk, unconditional, patient-direct money-back guarantee.